Welcome to the insane and wonderful world that is one of my BTL reports! As you noticed, I've got some pwntastic new graphics, courtesy of Magistrate to the Herald Shin'ichi Keibatsu of Clan Naga Sadow. Praise him for your seeing pleasure. Now, the reporting shall begin!
Dismal Visutor – Gamed (a lot) – Posted in the Run On – Completed one ACC battle

Alexashandra Greywolf – Did not report in – Strike One

Koga Kage – Gamed (pwned Taldryanites)

Aalos Fier – Posted in the Run On – Wrote a fiction – Completed the Embrace of Pain puzzle

Bre-ma Sedul – Gamed

Armand al'Tor – Gamed

Maol Nor Lexu – Working on fiction

Jaden Kyrath – Posted in the Run On


New Flight Leader: Everyone congratulate Aalos Fier on his elevation to Flight Leader. Drinks on him.

Exar's Shadow Spacecraft: If you've read the Run On, which you all should have, you'd have noticed that Diadem Fortress's hangar bay was destroyed. This means, that all of the Blades of Kun squadron was annihilated. Me and Scorpius escaped in one TIE Phantom, but that won't suit the whole team. No ship or squadron will be assigned until after the Great Jedi War. For the duration of the war, use whatever you can find as a ship.

Clan Plagueis Battleteam Revamp: Myself and Knight Kaliidrad Vorrac have worked on the weapons and armor assigned to Exar's Shadow. So, without further ado, I will list them:
Main Weapon (Rifle): SoroSuub GLX "Firelance"
Secondary Weapon (Pistol): Relby K-23
CQC Weapon (Blade): Litch blade. Flight Leaders may carry a Force Pike as well as their dagger. Members at and above Dark Jedi Knight may use their lightsabers.
Other Weapon (Grenade): Plasma grenade.
Armor: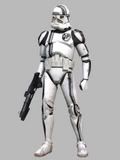 Exar's Shadow Three-Strike Rule: Just a reminder, that if you don't compete in AT LEAST three gaming matches per week, or post in the Run On / write a fiction, you will be booted from the team. Also, if you don't report in, a strike will be added to your record. Three weeks of not reporting in will earn you AWOL status and your status within the team will be revoked.

Exar's Shadow Competitions: Three words:_ GREAT JEDI WAR !_ We placed third in the Rite of Supremacy, and we're off to a slow start in GJW 7, but it's only the beginning. Let's step up, and pwn this war! Competitions solely for the BT will come out after the GJW.

Exar's Shadow Fictional Jobs: Fictional jobs are what each member of the team will focus on when writing a fiction or participating in a Run On. For example, if someone was given the job 'Sniper', they would do the behind-the-scenes killing, usually from long distances and without being noticed. These will be completely redone after the GJW.

Exar's Shadow Advertisement: Recruit, team! We need more active people in the team, so do your part by trying to recruit Kunians into this elite organization! If you have any ideas for propaganda, (i.e. flyers, graphics) contact me personally.

Shadow One OR Shadow Leader: Dismal Visutor

Shadow Two: Aalos Fier

Shadow Three: Alexashandra Greywolf

Shadow Four: Koga Kage

Shadow Five: Bre-ma Sedul

Shadow Six: Jaden Kyrath

Shadow Seven: Armand al'Tor

Shadow Eight: Maol Nor Lexu
Yes, these have changed, but this is due to various roster changes. Hopefully the roster is done changing for a while so the names will not change too often.
Well, sadly my report must now come to an end. You have all been really active, and that is appreciated very much. However, we can't stop now, and we have room to improve. Continue to be active, fight for your House and Clan
As with all leaders in Plagueis, I maintain an open door policy. If you have any questions, comments, or concerns, don't hesitate to contact me through any of the following means:
mIRC: Dismal or variant

AIM: Birdman6110
Have fun, and may the Force be with you.
SW Dismal Visutor (Sith)/CMDR-DV/Exar Kun of Plagueis [ACC: CL:2]
AC-ToSH / DC-SiP / Cr-2A-6S-5E-6T-3Q / CF-PF / DSS-BL / SI-BL / SoL / LoR / LS-BL / S:-1Dk
{SA: MVN - KS: ToL - DBB - AS - AIM - IRC - IRO - MSN - LA - LF - ACC - CM - D: KCORE - TW - SA - FP - HS1 - PRH - MED - KP - GS - CPH - O: SCORE - TA - ESET - K: OCORE - TS - LS - MRK}