<!DOCTYPE html PUBLIC "-//W3C//DTD XHTML 1.0 Transitional//EN" "http://www.w3.org/TR/xhtml1/DTD/xhtml1-transitional.dtd">
<head> <meta http-equiv="Content-Type" content="text/html; charset=utf-8" /> <title>Untitled Document</title> <style type="text/css"> <!-- body,td,th { font-family: Times New Roman, Times, serif; font-size: 14px; color: #0000CC; } body { background-color: #000000; } --> </style></head>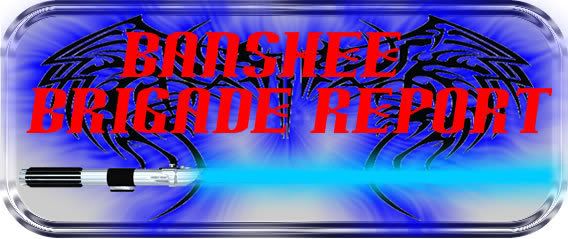 The room was almost dead silent. The hum of the servos in the medical droid was the only sounds that could be heard. Attaching a Cybernetic hand was obviously a time consuming job. Korvyn had forgone the usual Synthskin and chose instead to leave the Hard Metal exposed. The blackened durasteel made for quite the imposing look. Sharpened spikes would be clearly visible when he closed his fist making for an even deadlier punch from his left hand.
Signaling it had completed its task, Korvyn shooed the droid away with a hand gesture as his comm unit sprang to life. It was Thran after a brief Conversation about the latest Holovids involving various adult entertainers the two got down to business.
"Melvin, Can he carry the mantle?" thran asked the sergeant.
"He can and will, Sir" Korvyn answered proudly having every faith in the young Givin.
"My gift you like it?"
"Yes, it will do nicely" Korvyn said flexing his new hand. It would have it's draw backs but the increased grip as well as force in his attacks would be worth it.
-=| News |=-
First Congrats are in order for Melvin. He has been appointed the Provost of Numerals and elevated to the Blades of Chaos. It's great to see you rising so quickly.
IG's are delayed for um unknown reasons at least to me. Hopefully everyone is as ready to kick some Tally arse as I am.
[-0-] Comps [-0-]
None this month due to the IG's hopefully starting soon.
[-0-] Activity [-0-]
This is something new I'm working on. Basically for comps you get a mark if I receive a CC on it as well as other things like IRC. Eventually i will use this for a monthly comp. Haven't figured out how to keep it as pretty as it is in excel.
<html xmlns:o="urn:schemas-microsoft-com:office:office" xmlns:x="urn:schemas-microsoft-com:office:excel" xmlns="http://www.w3.org/TR/REC-html40">
<meta http-equiv="Content-Type" content="text/html; charset=windows-1252" /> <link rel="Original-File" href="file:///C:\Documents%20and%20Settings\Nick\My%20Documents\Starwars\BB%20activity%20tracker.xls" /> <meta name="ProgId" content="Excel.Sheet" /> <meta name="Generator" content="Microsoft Excel 10" /> <link rel="File-List" href="BB%20activity%20tracker_files/filelist.xml" /> <link rel="Edit-Time-Data" href="BB%20activity%20tracker_files/editdata.mso" /> <link rel="OLE-Object-Data" href="BB%20activity%20tracker_files/oledata.mso" /> <!--[if gte mso 9]><xml> <o:DocumentProperties> <o:Author>Nick Spears/o:Author <o:LastAuthor>Nick Spears/o:LastAuthor <o:Created>2008-03-28T21:25:24Z/o:Created <o:LastSaved>2008-04-04T05:25:21Z/o:LastSaved <o:Version>10.6830/o:Version /o:DocumentProperties <o:OfficeDocumentSettings> <o:DownloadComponents/> <o:LocationOfComponents HRef="file:///\\"/> /o:OfficeDocumentSettings </xml><![endif]--> <style> <!--table
{mso-displayed-decimal-separator:"."; mso-displayed-thousand-separator:"\,";} @page
{margin:1.0in .75in 1.0in .75in; mso-header-margin:.5in; mso-footer-margin:.5in;} tr
{mso-height-source:auto;} col
{mso-width-source:auto;} br
{mso-data-placement:same-cell;} .style18
{mso-number-format:"(\0022$\0022* #\,##0.00)\;(\0022$\0022* \(#\,##0.00\)\;(\0022$\0022* \0022-\0022??)\;(\@_)"; mso-style-name:Currency; mso-style-id:4;} .style0
{mso-number-format:General; text-align:general; vertical-align:bottom; white-space:nowrap; mso-rotate:0; mso-background-source:auto; mso-pattern:auto; color:windowtext; font-size:10.0pt; font-weight:400; font-style:normal; text-decoration:none; font-family:Arial; mso-generic-font-family:auto; mso-font-charset:0; border:none; mso-protection:locked visible; mso-style-name:Normal; mso-style-id:0;} td
{mso-style-parent:style0; padding-top:1px; padding-right:1px; padding-left:1px; mso-ignore:padding; color:windowtext; font-size:10.0pt; font-weight:400; font-style:normal; text-decoration:none; font-family:Arial; mso-generic-font-family:auto; mso-font-charset:0; mso-number-format:General; text-align:general; vertical-align:bottom; border:none; mso-background-source:auto; mso-pattern:auto; mso-protection:locked visible; white-space:nowrap; mso-rotate:0;} .xl24
{mso-style-parent:style0; vertical-align:middle;} .xl25
{mso-style-parent:style0; color:white; font-size:14.0pt; font-family:Arial, sans-serif; mso-font-charset:0; background:black; mso-pattern:auto none; mso-protection:unlocked visible;} .xl26
{mso-style-parent:style0; color:white; font-size:14.0pt; font-family:Arial, sans-serif; mso-font-charset:0; text-align:center; background:black; mso-pattern:auto none; mso-protection:unlocked visible;} .xl27
{mso-style-parent:style0; color:white; font-size:14.0pt; font-family:Arial, sans-serif; mso-font-charset:0; background:black; mso-pattern:auto none;} .xl28
{mso-style-parent:style0; color:white; font-size:14.0pt; font-family:Arial, sans-serif; mso-font-charset:0; mso-number-format:"[$-F800]dddd\\,\ mmmm\ dd\\,\ yyyy"; text-align:left; background:black; mso-pattern:auto none; mso-protection:unlocked visible;} .xl29
{mso-style-parent:style0; color:white; font-size:14.0pt; font-family:Arial, sans-serif; mso-font-charset:0; mso-number-format:"Short Date"; text-align:left; background:black; mso-pattern:auto none; mso-protection:unlocked visible;} .xl30
{mso-style-parent:style0; color:white; font-size:14.0pt; font-family:Arial, sans-serif; mso-font-charset:0; text-align:right; background:black; mso-pattern:auto none; mso-protection:unlocked visible;} .xl31
{mso-style-parent:style0; color:white; font-size:14.0pt; font-family:Arial, sans-serif; mso-font-charset:0; text-align:left; background:black; mso-pattern:auto none; mso-protection:unlocked visible;} .xl32
{mso-style-parent:style18; color:white; font-size:14.0pt; font-family:Arial, sans-serif; mso-font-charset:0; text-align:center; background:black; mso-pattern:auto none; mso-protection:unlocked visible;} .xl33
{mso-style-parent:style0; color:white; font-size:14.0pt; font-family:Arial, sans-serif; mso-font-charset:0; text-align:center; vertical-align:middle; background:blue; mso-pattern:auto none; mso-protection:unlocked visible; white-space:normal;} .xl34
{mso-style-parent:style0; color:white; font-size:14.0pt; font-family:Arial, sans-serif; mso-font-charset:0; background:blue; mso-pattern:auto none;} .xl35
{mso-style-parent:style0; color:white; font-size:14.0pt; font-family:Arial, sans-serif; mso-font-charset:0; text-align:center; background:blue; mso-pattern:auto none;} .xl36
{mso-style-parent:style0; color:white; font-size:14.0pt; font-family:Arial, sans-serif; mso-font-charset:0; mso-number-format:0%; text-align:center; background:blue; mso-pattern:auto none;} .xl37
{mso-style-parent:style0; color:white; font-size:14.0pt; font-family:Arial, sans-serif; mso-font-charset:0; background:blue; mso-pattern:auto none;} .xl38
{mso-style-parent:style18; color:white; font-size:14.0pt; font-family:Arial, sans-serif; mso-font-charset:0; background:blue; mso-pattern:auto thick-diag-cross;} .xl39
{mso-style-parent:style0; color:white; font-size:14.0pt; font-family:Arial, sans-serif; mso-font-charset:0; background:blue; mso-pattern:auto thick-diag-cross;} --> </style> <!--[if gte mso 9]><xml> <x:ExcelWorkbook> <x:ExcelWorksheets> <x:ExcelWorksheet> <x:Name>Sheet1/x:Name <x:WorksheetOptions> <x:Selected/> <x:Panes> <x:Pane> <x:Number>3/x:Number <x:ActiveRow>27/x:ActiveRow <x:ActiveCol>7/x:ActiveCol /x:Pane /x:Panes <x:ProtectContents>False/x:ProtectContents <x:ProtectObjects>False/x:ProtectObjects <x:ProtectScenarios>False/x:ProtectScenarios /x:WorksheetOptions /x:ExcelWorksheet /x:ExcelWorksheets <x:WindowHeight>12780/x:WindowHeight <x:WindowWidth>14955/x:WindowWidth <x:WindowTopX>720/x:WindowTopX <x:WindowTopY>285/x:WindowTopY <x:ProtectStructure>False/x:ProtectStructure <x:ProtectWindows>False/x:ProtectWindows /x:ExcelWorkbook </xml><![endif]-->
<body link="blue" vlink="purple">
<table x:str border="0" cellpadding="0" cellspacing="0" width="747" style="border-collapse: collapse;table-layout:fixed;width:561pt"> <col width="29" style="mso-width-source:userset;mso-width-alt:1060;width:22pt" /> <col width="206" style="mso-width-source:userset;mso-width-alt:7533;width:155pt" /> <col width="64" span="8" style="width:48pt" /> <tr height="24" style="height:18.0pt"> <td height="24" width="29" style="height:18.0pt;width:22pt"></td> <td class="xl25" width="206" style="width:155pt">Banshee Brigade</td> <td class="xl26" width="64" style="width:48pt"> </td>
<td class="xl26" width="64" style="width:48pt"> </td> <td class="xl27" width="64" style="width:48pt"> </td> <td class="xl27" width="64" style="width:48pt"> </td> <td class="xl27" width="64" style="width:48pt"> </td> <td class="xl27" width="64" style="width:48pt"> </td> <td class="xl27" width="64" style="width:48pt"> </td> <td class="xl27" width="64" style="width:48pt"> </td> </tr> <tr height="24" style="height:18.0pt">
<td height="24" style="height:18.0pt"></td> <td class="xl25">Performance Tracking</td> <td colspan="2" class="xl26" style="mso-ignore:colspan"> </td> <td colspan="6" class="xl27" style="mso-ignore:colspan"> </td> </tr> <tr height="24" style="height:18.0pt"> <td height="24" style="height:18.0pt"></td> <td class="xl25"> </td>
<td colspan="2" class="xl26" style="mso-ignore:colspan"> </td> <td colspan="6" class="xl27" style="mso-ignore:colspan"> </td> </tr> <tr height="24" style="height:18.0pt"> <td height="24" style="height:18.0pt"></td> <td class="xl28" x:num="39535">Friday, March 28, 2008</td> <td colspan="2" class="xl26" style="mso-ignore:colspan"> </td> <td colspan="6" class="xl27" style="mso-ignore:colspan"> </td>
</tr> <tr height="24" style="height:18.0pt"> <td height="24" style="height:18.0pt"></td> <td class="xl29"> </td> <td colspan="2" class="xl26" style="mso-ignore:colspan"> </td> <td colspan="6" class="xl27" style="mso-ignore:colspan"> </td> </tr> <tr height="24" style="height:18.0pt"> <td height="24" style="height:18.0pt"></td>
<td class="xl30" x:str="Member ">Member<span style="mso-spacerun:yes"> </span></td> <td class="xl26">Tash</td> <td class="xl26">Melvin</td> <td class="xl27">Bal</td> <td class="xl27">Kat</td> <td class="xl27">Davion</td>
<td class="xl27">Korvyn</td> <td class="xl27">Blade</td> <td class="xl27"> </td> </tr> <tr height="24" style="height:18.0pt"> <td height="24" class="xl24" style="height:18.0pt"></td> <td class="xl33" width="206" style="width:155pt">Activity</td>
<td colspan="6" class="xl33" style="mso-ignore:colspan"> </td> <td class="xl34"> </td> <td class="xl33" width="64" style="width:48pt">Total</td> </tr> <tr height="24" style="height:18.0pt"> <td height="24" style="height:18.0pt"></td> <td class="xl31">IRC presence</td> <td class="xl32" x:num>1</td>
<td class="xl32" x:num>1</td> <td class="xl32" x:num>1</td> <td colspan="2" class="xl26" style="mso-ignore:colspan"> </td> <td class="xl26" x:num>1</td> <td class="xl26" x:num>1</td> <td class="xl39" align="right" x:num x:fmla="=SUM(C8:I8)">5</td>
</tr> <tr height="24" style="height:18.0pt"> <td height="24" style="height:18.0pt"></td> <td class="xl31">SA Courses</td> <td colspan="5" class="xl32" style="mso-ignore:colspan"> </td> <td class="xl27"> </td> <td class="xl26"> </td> <td class="xl39" align="right" x:num x:fmla="=SUM(C9:I9)">0</td>
</tr> <tr height="24" style="height:18.0pt"> <td height="24" style="height:18.0pt"></td> <td class="xl31" x:str="Whats your Role? ">Whats your Role?<span style="mso-spacerun:yes"> </span></td> <td class="xl32" x:num>1</td> <td colspan="5" class="xl32" style="mso-ignore:colspan"> </td> <td class="xl26"> </td>
<td class="xl39" align="right" x:num x:fmla="=SUM(C10:I10)">1</td> </tr> <tr height="24" style="height:18.0pt"> <td height="24" style="height:18.0pt"></td> <td class="xl31"> </td> <td colspan="6" class="xl32" style="mso-ignore:colspan"> </td> <td class="xl26"> </td> <td class="xl39" align="right" x:num x:fmla="=SUM(C11:I11)">0</td>
</tr> <tr height="24" style="height:18.0pt"> <td height="24" style="height:18.0pt"></td> <td class="xl31"> </td> <td colspan="6" class="xl32" style="mso-ignore:colspan"> </td> <td class="xl26"> </td> <td class="xl39" align="right" x:num x:fmla="=SUM(C12:I12)">0</td> </tr>
<tr height="24" style="height:18.0pt"> <td height="24" style="height:18.0pt"></td> <td class="xl31"> </td> <td colspan="6" class="xl32" style="mso-ignore:colspan"> </td> <td class="xl26"> </td> <td class="xl39" align="right" x:num x:fmla="=SUM(C13:I13)">0</td> </tr> <tr height="24" style="height:18.0pt">
<td height="24" style="height:18.0pt"></td> <td class="xl31"> </td> <td colspan="6" class="xl32" style="mso-ignore:colspan"> </td> <td class="xl26"> </td> <td class="xl39" align="right" x:num x:fmla="=SUM(C14:I14)">0</td> </tr> <tr height="24" style="height:18.0pt"> <td height="24" style="height:18.0pt"></td>
<td class="xl31"> </td> <td colspan="6" class="xl32" style="mso-ignore:colspan"> </td> <td class="xl26"> </td> <td class="xl39" align="right" x:num x:fmla="=SUM(C15:I15)">0</td> </tr> <tr height="24" style="height:18.0pt"> <td height="24" style="height:18.0pt"></td> <td class="xl34"> </td>
<td colspan="7" class="xl36" style="mso-ignore:colspan"> </td> <td class="xl37"> </td> </tr> <tr height="24" style="height:18.0pt"> <td height="24" style="height:18.0pt"></td> <td class="xl35">total</td> <td class="xl38" align="right" x:num x:fmla="=SUM(C8:C15)">2</td> <td class="xl38" align="right" x:num x:fmla="=SUM(D8:D16)">1</td>
<td class="xl38" align="right" x:num x:fmla="=SUM(E8:E15)">1</td> <td class="xl38" align="right" x:num x:fmla="=SUM(F8:F15)">0</td> <td class="xl38" align="right" x:num x:fmla="=SUM(G8:G15)">0</td> <td class="xl38" align="right" x:num x:fmla="=SUM(H8:H15)">1</td> <td class="xl38" align="right" x:num x:fmla="=SUM(I8:I15)">1</td> <td class="xl38" align="right" x:num x:fmla="=SUM(C17:I17)">6</td>
</tr> <tr height="24" style="height:18.0pt"> <td height="24" style="height:18.0pt"></td> <td colspan="9" class="xl27" style="mso-ignore:colspan"> </td> </tr> <tr height="17" style="height:12.75pt"> <td height="17" colspan="10" style="height:12.75pt;mso-ignore:colspan"></td> </tr> <![if supportMisalignedColumns]>
<tr height="0" style="display:none"> <td width="29" style="width:22pt"></td> <td width="206" style="width:155pt"></td> <td width="64" style="width:48pt"></td> <td width="64" style="width:48pt"></td> <td width="64" style="width:48pt"></td> <td width="64" style="width:48pt"></td> <td width="64" style="width:48pt"></td> <td width="64" style="width:48pt"></td>
<td width="64" style="width:48pt"></td> <td width="64" style="width:48pt"></td> </tr> <![endif]> </table>
[-0-] Links [-0-]
Banshee Brigade Wiki: http://www.darkjedibrotherhood.com/wiki/index.php?title=Banshee_Brigade
DJB Server list: http://www.darkjedibrotherhood.com/wiki/index.php?title=Gaming_Servers
CSP Message Boards:
http://www.darkjedibrotherhood.com/forum/index.php?showforum=21
IRC Guide:
http://www.darkjedibrotherhood.com/dbjedi/irc_guide.asp
</body> </html>