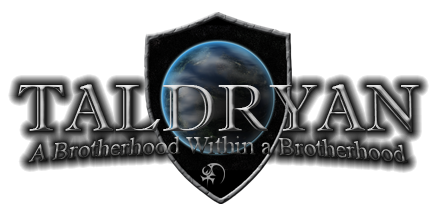 First off, yay for having the sexiest report graphics for a Unit Leader? Amen.
Since my last report (a little over a month ago) was during the Great Jedi War X, I didn't bother to post it on the DJB news page and distract anyone from the Vendetta. Not that there was a whole lot for me to say, I think I said all that could be said in our sittuation... reading it now, I think most of you who did read it took it into practice. I'm honored.
Now... The War is over, and boy am I relieved! Overall, I thought this War was executed extremely well, and mad props to the Dark Council for sticking with it and getting the results out in a timely fashion. Also, I'd like to give a shout-out to Wuntilla and the people over there in Arconan for truly ripping up the events and killing it; good luck in the next Vendetta, guys... you'll need it. ;)
Now, onto the important people: You guys - the Taldryanites - did great in comparison to the rest of the Brotherhood. Arcona gave us a slap upside the head... but we'll be sure to give them one right back, and perhaps another for good measure in the future. Second place isn't any small feat, and it should be a great honor to stand amongst the top 3. So officially, I am thanking all of you for your hard work and due diligence towards Taldryan's effort in this War. Merit Medals have been awarded, participation has been tallied and Seals of Decimeation have been awarded, as well as all of the Novae, Clusters of Fire and Clusters of Ice! Thank you guys and gals, for stuffing my inbox! =P
Now to recognize the members being awarded by the Taldryan Summit:
Benevolent Taldrya Whiner earned his prestigious and excruciatingly painful to attain (his knees are pretty worn out, I'll give him that) a promotion to the stellar rank of Dark Side Adept! I'd talk more about this, but really, it'd be 5 pages all about Ben. For those who haven't already, go read the recommendation list found here: prepare for wall of text.
Furthermore, Rian Aslar, Taldryan's Rollmaster was also awarded with his promotion into the Equites, becoming an Obelisk Templar, as well as snagging himself a nice Antein Cross for his stellar work in the War. I've known Rian since he transfered into Tal, and it's great pleasure to see him grow as much as he has, and can now officially join his Tally brothers on the Blue (winning) team. Well done, and a great example of what a Leader should be.
Continuing on, Dark Crosses were awarded to Protector Carissus, Jedi Hunter Rigar Ulrand, Jedi Hunter Kanzuki Ozen and Sith Battlemaster Anubis Annedu for their work in the GJW. Way to go, guys!

Antein Crosses were awarded to Jedi Hunter Teia Coran, Sith Warrior Gobhainn Sgath, Krath Archpriest Ekeia Iclo & Alexander Anderson, Krath Epis Bubbles Taldrrya and Dark Jedi Master Shadow Taldrya! Well done, guys!

Steel Crosses were awarded to Dark Jedi Knight Corax "Baron" Zarjin, Obelisk Exarch Chaosrain Taldrya, Krath Pontifex Ashia Kagan Keibatsu and Dark Jedi Master Howlader. You guys owned, man. Mega props to Howie and Chaos for having 20+ events.

And lastly, a Grand Cross of the Darkside was awarded to Dark Jedi Mastet Keirdagh Taldrya Cantor, or Yacks as you all know him, for participating in 33 events and coming in 7th place overall in the Brotherhoood, as well, and was one of the larger backbones in Taldryan throughout the War in addition to Ben's stellar performance. Thank you again, Yacko.
I can assure you that all who recieved their rewards had a condierable amount of time put into each Rec' and into the choice of award to be given. So congrats all on your fantastic awards!
Now, I'd like to welcome back into Taldryan OT Kiritéa Urkaia, previously known as Tyre Arvalis! I'm glad to see Tyre back, and can't wait to see what he's got for us here in Tal.
Secondly, and I still can't believe I am actually saying this... former long-serving AED and QUA of House Dinaari of Clan Taldryan, and former P:MAA and fellow Son of Taldryan,Tarax Eosphoros Taldrya has transfered back into Taldryan. Already Tarax has begun to reap his one-of-a-kind personality amongst the DB, and I can't WAIT to see Oberst and Tarax re-unite in #db. There shall be tears, there shall be blood, and there shall be a sword drill to see who can come up with a nastier link form the term "pain". I'm still not sure what to think... but I do know it's good to have him back. Give a big welcoming to Pole, the POL-ish Canuck!
With Taldryan coming in second place, we not only scored a pair of soon-to-be-had Taldryan specific Robes, but we also earned some wicked killer options and points for our possessions. Some of this stuff may sound too geeky to understand or see why it is so important, but we traded in our old Space station and were given the ability to puchase a newer, upgraded station. We also bought a new Regiment to go alongside our already stunning 3 Regiments, and I'm sure you all will intriuged to know that they aren't human.
In addition, we were gifted a fantastic creature of the force to represent us as a unit. These sithspawn that were granted to us are the force-giants known as Imperial Sentinels. These beings will soon be fictionally developed into the Taldryan way of life, as will the rest of our purchases. Finally, we bought some squadrons of Chase-X fighters... yeah, we have the best fighters in the DJB now. WHOZ GOT DAH POWAH NAOW!?

I ran two break-the-ice competitions just before the results of the war came out. There was a Poetry and a short Fiction competition, adn the results were rather expedcted, though still displeasing to see. Each comp' got 1 entry, and Bubbles was there to steal away the easy Topaz Crescent for 'A Poem for the Weary' while Rian snagged his Topaz star for placing in 'The Reward' fiction event. Now I'm not all too upset about the turnout, as the war HAD just ended and I'm sure you all needed a break... however, I better not see the same turnout for future comps, lest I sick the ferocious Ashia on you. ;)
Speaking of Ashia, you can all be expecting a word from her in your inboxes requesting your thoughts on a specialized event. I don't want to steal her thunder, so I'll leave you all to guessing what it's going to be... though I'm sure SOME of you have an idea. Anywho, I suggest you all prepare to get your writing fingers ready, as this is going to be fun.
Okay, so there are a ton of gaming competitions going on right now... too much for me to take part in, especially when my gaming comp went down again. So I need people who are willing to take my place and get some matches in for Tal, and further your e-peen by earning CF's and possibly even Crescents if you can earn enough of them. Here are the gaming competitions that are running:
Space Marine | Title of Titan (RC) | Accept the Call (CoD) | Against the Odds (JA) | A Good Day to Bryar Hard
As I am sure you all can see, there is a good amount of unique competitions in there. Do your best and get to gaming! Don't forget, all participation goes towards your next big award and/or promotion. <3
This past month on November 7th at 11:30 PM EST I stood outside of gamestop with my receipt stamped with a "PAID" stamp on it, number 94 out of 500+. At exactly 12:11 AM EST on Tuesday, I had my Hardened Edition of Modern Warfare 3 in my hand... there was much tiredness that ensued 24 hours later, and I am proud to say I was one of the first people to reach level 80 on MW3 Multiplayer online. Anyways, here are two very nerdy and very geeky pictures of me just after getting it.
->
<-
Yay for FPS addicted QUA!
Anyone who wishes to game with me on any of the CoD's, whether it be for the FIST competition or just for fun, my PSN gamer tag is: HeraldOfPwn
Add it, and leave a message stating who you are. I'm a wicked big CoD fan, and now with Elite, we can track people from all over the place, which makes having a clan THAT much easier to maintain and sustain and draw people in. For my gaming "CLAN" on my callsign, I've already been running around with 'DJB', and so far I've been asked twice what it stands for, and I've been able to tell the people who asked as well as everyone in the lobby what DJB stands for. So yeah, there's something to be seen here. I urge anyone who games on those platforms to do the same. This is a Taldryan Report, but I know not just Tally's are reading it, and I'm a bit of a preacher when it comes to CoD.

Moving on along to closing, I want you all to shake off whatever sleepyness you've encountered over the past couple of weeks since the war has been over and be ready to get active. There will not be any excuses for those who sit idle (unless you are panda). Let's try and set ourselves above the rest of the DJB, shall we? There are a handful of JH's in our midst, and soon to be JH's... let's get you promoted, shall we?
I always feel like I'm missing something in these reports, and I usually realize what it is AFTER I've published it. For now though, this should suffice. Congrats to all on your awards, keep your eyes open for development (which starts with YOU), and try to pwn as hard as you can. Goodies are still on the horizon.