Please be sure to read both the report of the Grand Master and the word from the DB's new Voice.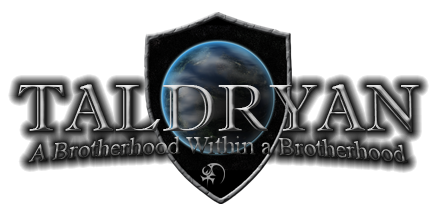 Okay guys and gals, it's report time!
You'll notice that 'Where in the DB is Ben's Boot?' competition is back, where I ask a trivia question about Taldryan and the first 3 members to respond to me via PM'ing me on IRC with the correct answer will earn 5th level Crescents.
First up on the news side of this report is: As most of you may know, the Grand Master and Deputy Grand Master have decided upon and elected a new Voice of the Brotherhood. Our very own Vodo Biask Taldrya - former QUA of Ektrosis and CON of Taldryan - has been chosen to be the lead over the DB's fiction. I am very pleased to have witnessed Vodo's hard work and admiration of his fictional prowess first hand, and I cannot wait to see what he will bring to the table as VOICE, and as a Dark Councilor. Grats, Vodo.
Secondly, Grand Master Muz released a Report just yesterday detailing a very nice fiction update for the DB. Along with the update on the fiction, the mark has been set for the Independence Games. In two weeks, the Brotherhood will celebrate the day of the Exodus (In which the DB split from the Empire's Hammer) with a DB wide competition. This competition is not geared for anyone one unit, House or otherwise, to "win". This is a solo competition where you as a member will fight for your rights as a classed competitor in the Brotherhood by participating in a various array of competitions put on by the Dark Council.
This will be my 2nd IG's to participate in, and I'm looking forward to putting my name out there as someone to look out for on all fronts of activity; and I hope the rest my Brothers and Sisters in Taldryan will do the same. You may be fighting for your own glory in this one, but Taldryan is reflected still, and all participation/activity comes with reward.
Also included in the report, Timeros has been appointed as the new Combat Master of the DB's Antei Combat Center.
Thirdly, our loverly Seneschal (weird Dark Councilor name for the coding God of the DB) Orv has updated the ancient and decrepit DJB Forums to a newer version for our Message Boards. The state of the MB's has been moved to a new address, which you can find HERE.
Fourthly, and as most all of you know by now, Taldryan has a new Rollmaster, Raiju Kang! Raiju has served the position in many Units in the past, and is exactly what both Anubis and myself were looking for to fill the position. The RM slot has been empty for well over a year now in Taldryan, and it is finally being put to good use. With Raiju now taking over the position of welcoming new members into the House, this allows me to start working on some major things that have been needing to get done in Taldryan.
To start, we've begun some inter-unit negotiations with (I'm sure some of you can figure it out by now ;) ) with a fellow Unit within the DB. Already, we've begun to get some fictional updates rolling, which have been lacking drastically since our being Housed up from Clan Status. Along with that, we've begun to develop a special program for those members who are amongst the ranks of our Journeymen to be aided in furthering the process of earning their Knightood. Both the Rollmaster, Aedile, Quaetor and the Inner Order of Taldryan are working on making this program epic and effective, and you all should be seeing more news on this in the near future.
Grand Master Report. As stated previously, there's a fair bit of relative information in here, so read up!
Wiki Tribune Report, Here Anubis has layed out his plan to restructure the awards for the Wiki, as well as a brief update on the Wiki.
Deputy Grand Master Report. Halc has introduced himself to his new position of DGM, and has outlined some various aspects that surround that, as well as the transitioning of Voice to DGM.
Headmaster Report. Taig has annoucned some new courses to the Dark Brotherhood, and some other useful information regarding the Grind Path and the SA.
Fist Report. Fremoc mentions the new Free-For-All match making setup, the bringing back of ICTE and some TOR-DB updates.
Herald Report. Shikyo has let us in on an update about the up-and-coming Face Selector, and of course... some sexy GFXness.
To those of you who responded to my call for an ACC challenge: I have not forgotten you. I only have time to keep up with one battle at a time currently, and if I'm not battling you at the moment it is because I am already in the process of a battle. So once I am finished with my current battle, I'll be more than happy to take you on, and will challenge you in order of who respnded first.
A shout out goes too:
Guardian Diclonius, for earning himself his first merit medal, a very nice Antein Cross, and for earning his promotion to the rank of Guardian. Congrats, Di!
Guardian Rigar Ulrand, for earning a total of 43 Clusters of Fire so far for the month of March. Keep up your fantastic gaming, Rigar!
Thanatos has earned his first promotion in Taldryan to the rank of Novice! Congratulations, Than!
Necronomicon has earned his first promotion in Taldryan to the rank of Novice! Woo!
Please also join me in welcoming Apprentice Bonarpolice and Novice Necronomicon and Novice Thanatos to House Taldryan! And welcome back Ziggy from being kicked out during the AWOL check! We <3 u.
On another note, Destavol Gin has transfered out of House Taldryan, and has gone to join the good people of HOU. Have fun, Dest.

Be on the loook out for more competitions from the Rollmaster in the near future!
-> Fiction Competitions
What Goes Around... | Victory | New Beginnings | Load the Can(n)ons #7 | [TAL] Military Might Take I | [HRLD] Assassin <-
-> Gaming Competitions
Soul Calibur 4 Weekend | Beat of the Fist's Praetor | Team EaW | Killzone 3 | JA Battles <-
-> Miscellanious Competitions
#db Trivia | [DGM] Report Lyrics | [TAL] Where in the DB is Ben's Boot? <-

Now that Raiju is on the Summit, he has full access to the tal.activity mail account, and will be able to track the activity of the Taldryan Journeymen. With that, he is also needed to be Cc'd on anything and everything that regards a member who is at the rank of DJK or under, alongside Anubis and myself, and your BTL. So if you are a Journeymen, and are (in example) emailing the Headmaster and Praetor to the Headmaster on a course retake, you need to Cc' the entire Tal Summit. You can find both our names and email address when logged into the DJB website by viewing the roster. Our names are at the very top of the roster page for Tal, so it shouldn't be hard to find us.
A note to the members of Phoenix Battleteam: Although your Battleteam Leader (BTL) has been extremely busy the past two weeks, that does not exclude you from being active yourself. Phoenix is meant to represent Taldryan's finest (not oldest, like OFH), so let's get cracking on some of that activity, eh? Splendid! And as an added Bonus, I'm going to be mentioning Tal's finest in my reports with the "Shout out" section. So if you're putting out, I'll put your name out there for recognition.
With the IG's coming up, the Taldryan Summit still expects you to Cc' the tal.activity email address with all of your entries. This is a must, and there is no exception. If you do not send your entry to the competition address AND the Taldryan activity account, we cannot account you for participating in the events you submitted. As always, our personal email address's are always open for anyne and everyone to email, and my IRC nick is always open for you to PM.
Ben's Boot: How many Sons and Daughters of Taldryan are there in total?