DJB at Star Wars Celebration: Orlando (2017)
Hello yes, this Wally, reporting in from Orlando, Florida compliments of my very gracious host, Braecen Kaeth. I just wanted to create a quick news post to help the general membership have easy access to the events and media that we will be sharing from the showfloor and panels. We'll also be running a few short and simple competitions! Read on below for more information.
Join the Fun: Telegram!
Telegram has a cool, unique feature that allows you to create a "Broadcast Group" instead of regular or supergroups. The main difference with Broadcast Groups is that only admins can post to the group effectively minimizing banter and clutter. This is a great way to see photos and videos from the convention without having to sift through active telegram conversations. To follow this Broadcast Group, click here.

If you're not concerned with banter and/or totally not intoxicated, hilarious dialogue with the members that will be live at the event, feel free to join our regular Telegram Supergroup [here. - Log in to view join link].
Join the Fun: Competitions
We'll be running a few light and quick competitions during the event. You can check them out under the Parent Competition here, once it goes live. Most likely you will see funny and/or amusing photo's we take and will be asked to come up with the best captions!
Join the Fun: Orange County Convention Center
You can check out the main website for SW Celebration here.

You can check out the list of panels here.

Use the following Google Form to submit requests for antics or suggestions. This can be anything from me randomly parkouring, to giving a Kylo Ren cosplayer a much needed hug, or pretending to be a real Dark Councilor and Gray Jedi. (Have you heard the Word of Pravus?)
Here is a gif capturing the Dark Jedi Brotherhood rolling up to Star Wars Convention.
Just kidding, but seriously. We're here, we're live, and we hope to share our passion for Star Wars with an entire convention of like minded and potential new members for our organization!
If you'd like to help out at all with social media aspects of this process, join us on Telegram and let us know!
If there ever was a time to join us on Telegram, you can view the various groups here at: darkjedibrotherhood.com/chat.
-W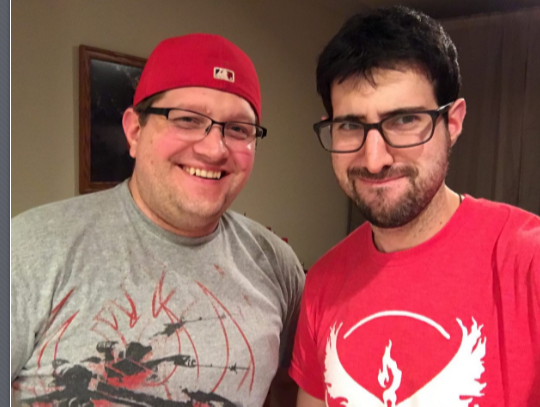 (Brandon aka Braecen, Wally aka Marick)
You need to be logged in to post comments