Hello Space Cowboys!
There are a few updates the Herald Staff would like to share with you, so let's get right into it.
New Warbanner Form
James did it again!
Ever since the new graphics request forms were made we've wanted an updated Warbanner form as well. Until now we've waited, but no longer. I divert your attention to your admin pages and the "Request Custom Graphics" link. Once there search for:

Under which you will find: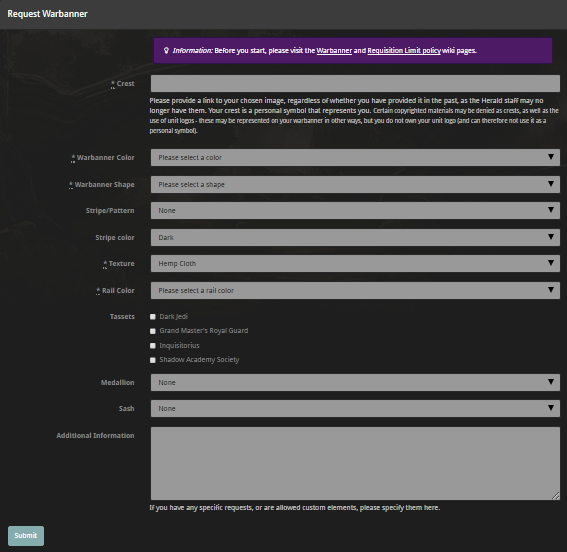 So what does this mean?
Simple. it makes our life a whole lot easier. (You're lucky if you never saw the Google form or Google sheet for the old form). Secondly, it automatically inserts your info into the form so all you have to do is pick your options and link us the crest, so no more typing of names or dossier numbers. It also gives you all the options you have according to rank, position (including former position) and such in the form itself. All you need to do is cross reference. It's also like one page long so no mor eboring form pages yay!
everyone thank James while you're using it, though, it was his coding that made it happen.
Custom Robes Requisition limit changes
The second bit of info: we've decided (well Esca and I did before he stepped down, but I didn't have time to handle it until now) to drop the Requisition limit for Elder robes from twelve to nine months. Not much of a change, but to any Elders out there wanting to change their characters that's one less stepping stone for an awesome dossier.
You can have a look-see in the Requisition limit wiki page
That's all for today. Enjoy.