Voice Report #4 - New Years 2017
Hello and welcome to my fourth report as Voice of the Brotherhood. This might be a shorter one (by my standards) but there is actually a lot going on despite the lull in activity across the Brotherhood. There are a lot of projects going on right now, and while I'm not going to get too into them with this report, look for the next one to be focused heavily on projects for 2017.
I hope everyone has had a happy holiday break, but it's time to get back to the grind. Alright 2017—here we go.
December DC Event
There are still a few days left for the DC-sponsored events. Check out the events here: Rogue One: A Star Wars Story Celebration
The Rogue One: Fiction currently has three entries. Don't you want to make Mav work for that new shiny Golden Lightsaber? Get your entries in!
Run-On: The Rising Tides
As per my last update, the Run-On was extended to January 7th, 2017. The final days of a Run-On competition, in my experience, tend to be the most critical to success. I wish everyone luck, and look forward to reading your stories.
Check out the competition details and the Run-On Launch page for more information.
Fiction Updates
Work has begun on Fiction 3.0, which has been given the working title of "Reconciliation." This update will look to build on the events of the Anthology Series and work towards setting up the story arc for 2017 and a leadup to the next Great Jedi War (tentatively slated for Spring-Summer).
I will also be publishing a "recap" of the last few years of relevant Brotherhood storylines. This will cover the conclusion of the Dark Crusades and Fading Light vendettas, roll into the consequences of Great Jedi War XI, and finish with a summary of the 2016 storyline starting with the "Undesirables" story arch.
Fiction Archives 1.0
In an attempt to better organize the fictional updates in the Dark Jedi Brotherhood for members, I created a section at the bottom of the Voice Staff Resources Hub with direct links to each update. Still, tracking on plot updates has always been kind of hit-or-miss in the history of the club, and there has yet to be a true solution to getting everything organized and into a single place.
To that end, I've created the Fiction Archives.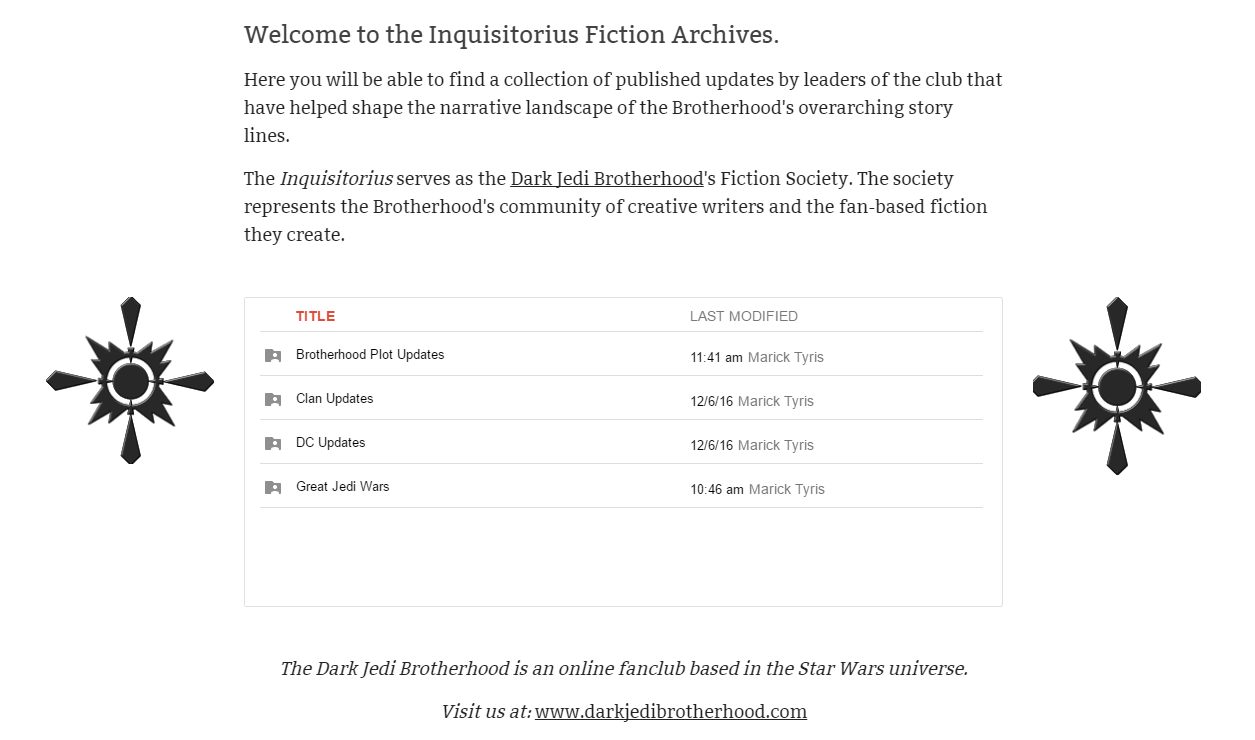 The goal of this is to have a working proof of concept for a feature that James will be working on in the future to incorporate into the Dark Jedi Brotherhood website. For now, this should serve as an easy to use filing-cabinet-like system for tracking on published fiction updates across the club.
Each of the Clans has as folder that will be managed by the Consuls of the respective unit. The members of the Dark Council are also given folders to upload and store their fiction updates as well.
All submissions or fictions posted to the Archives will be required to be in PDF form. This is a unified standard I'll be enforcing for the sake of presentation and to ensure that anyone, regardless of what operating system or software they own, is able to read these updates. You can view this policy on the Cluster of Ice wiki page.
The future goal will be to include member contributions through competition submissions. For now, James and I feel it's best to focus on published entries from the leadership-side of the club.
If you have any questions, let me know. If you like the layout/think this is a neat idea, I'd also love to hear about it in the comments. I tend to read everything, so if you feel like your voice isn't being heard somehow, make sure to poke me or follow up. This project is for you guys, not me. :)
Voice Involvement - Clan Fiction
This has come up a few times, so I wanted to get it out in the open. Clan Fiction is regulated by the Consul and Summit of the respective unit. I am not going to interpose myself into the creation or writing of Clan Fiction. If a Summit wants me to look something over, I'm more than happy to take a look/read over. Otherwise, I trust the Consuls to manage their Clan's individual storylines. Aiden (Tal CON) has been great with sharing the Taldryan updates for his Breaking Point storyline, which has allowed me to offer a few note while also ensuring that Taldryan can easily be worked into plot updates going forward. Seriously, I don't want to micromanage everyone, but I do not mind helping out when asked. Your Clan storylines are your Clan's, and I trust each unit leader with guiding and maintaining them.
That said, when you start to think about your Clan's involvement in the Brotherhood's main storyline, this is where the Voice becomes involved. I am here mostly to oversee and guide, but I am responsible ultimately for the final publications of plot updates within the Brotherhood.
What does that mean? It's probably a good idea to include me in cross-unit storyline planning. In my eyes, this allows me to better make sure the hard work and energy that goes into Clan storylines gets properly integrated with the Brotherhood's overarching storyline. Communication is key, and I'd like to think I'm pretty easy to get a hold of with questions.
In summary:
Unit Leaders are responsible for Clan Fiction updates and direction. I am not writing fictions for your units, don't worry.
The Voice will read/look over any Clan Fiction material if asked.
The Voice should be included on cross-unit storyline communication and planning for cohesive purposes and for oversight/DC support.
Loadouts and Possessions
The other day, James and Evant rolled out probably my favorite feature of the possessions system—Loadouts. Replacing the Weapons Loadout field, the Primary Loadout you select will become the default view on your active Character Sheet. The primary/default sheet will be what is used for future features (called snapshots) that James is currently working on. This will tie into how Possessions incorporates into the ACC, and I'll let my Combat Master touch on it in his next report.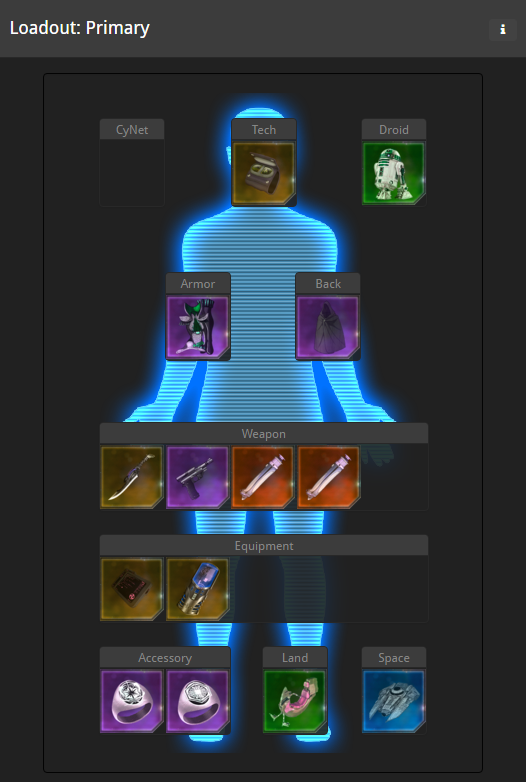 While this is a great move that truly ties the Possessions and Character Sheet systems together, we do lose a field where some members were using the space to embed character images. James will be looking into something for the future, but for right now, consider that no longer a viable option on Character Sheets. Members have taken, instead, to embedding the images with a hyperlink in Markdown. If you have questions with this or need help, please contact the Voice Staff - [Log in to view e-mail addresses]
For more on Possessions, check out Evant's Regent reports.
Weapon Selection Guide - Retired
The Weapon Selection Guide has been retired. In its place, I've created the CS Guide: Loadouts. This should help tie everything in Possessions together with the Character Sheets and answer a lot of common questions that have come up since launch.
You can also read more in the Character Creation Guide.
Ace Discipline
As my Praetor was quick to bring up after Loadouts launched, the Ace Discipline needed to be addressed. The preferred craft must now be designated in the Loadout Description field. This would also apply for the "There Are Many Like It" feat. The wiki has been updated to reflect this, and I've created the following image as reference. (Thanks Moro!)
Aspect Title Update
After discussing it with the Voice Staff, I've decided to update the policy we've used for Aspect titles used for Custom Aspects. The goal with this policy, originally, was to create consistency across the CS system. To that end, I feel that we've accomplished that goal. In the interest of trying to do small things where possible to increase member happiness and user experience, I'm going to update the policy to mirror "book titles". This means that words like "of" and "the" and "and" no longer need to be capitalized.
To help accomplish this and maintain consistency, I'm giving my new new Magistrate the— omg yay! — joyous task of auditing the database.
Rogue One: Featured Character Sheet
If you've seen the trailers for Rogue One or read any of the promotional material, you know about Chirrut Imwe, the blind "monk" played by action star Donnie Yen. Yen's character brings up a lot of questions in regards to the Brotherhood's Character Sheets. To help answer these questions and concerns, I created an NPC Character Sheet for Chirrut. This sheet was created based on three viewings of the film in theaters and supported by the [Rogue One Visual Guide]. (I highly recommend checking out the book if you loved the film. I like it more than TFA's Visual dictionary, and it's as good of a resource for nu-cannon material as we currently have).
The biggest thing to address was whether he counts as a NFU or FU in our system. Without spoiling anything, I'll let the Character Sheet speak for itself in regards to answering that question.
Warning: the following Character Sheet may contain spoilers for Rogue One.
Final Thoughts
So, I saw Rogue One three times in theaters. I have a lot to say about it as both a film student and Star Wars nerd. For the purposes of this report, I will simply say this: go see the movie in theaters if you have the chance. Even if you don't like Disney, or hate everything that "new canon" has introduced, give this movie a shot. Garreth Edwards really pulled off something great for the Star Wars cinematic universe, and I'm excited to get the Blu Ray so I can watch all the extended features. I would also highly recommend checking out Catalyst by James Luceno. It gives a nice background to the characters that show up in Rogue One, mostly focusing on Death Star program director, Orson Krennic. While the novel is not necessary to enjoy the film, I found myself taking away a few extra subtleties from the film.
Next on my list is the novelization itself of Rogue One. Until then, I strongly suggest everyone to go see the film. The spoiler ban will be lifted January 6th, so keep that in mind if you're planning on seeing the film this week!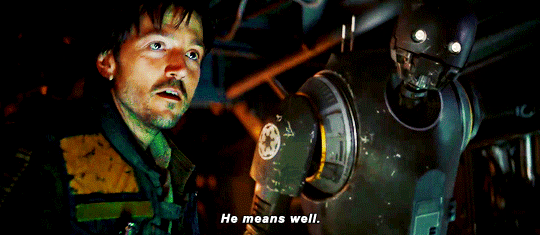 As usual, if you have any questions, let me know at [Log in to view e-mail addresses].
You need to be logged in to post comments