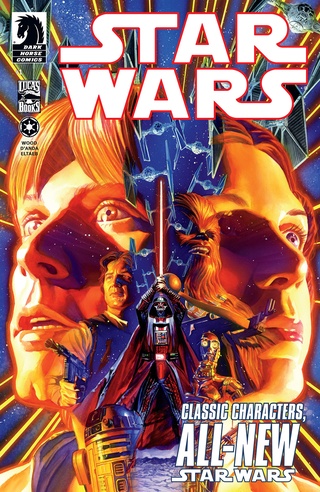 As already known by most, it is "Black Friday" here in these parts (mostly in the parts south of me, but it's up here in Canada now too). As such, plenty of places come out with various deals at this time. The Fist has already reported on some gaming deals that you should check out, if you don't already own some of those games.
The official Star Wars website had links to a number of items that are on sale for Black Friday, including a lot of things from the Disney Store and a discount on a subscription to Star Wars Insider. Apparently HMV Canada sells a X-Wing knife block? Decisions, decisions...
Last, but certainly not least, Dark Horse comics are having a big sale on digital comics. There are a variety of bundles for $99 USD covering various properties they have. Included in this are two Star Wars bundles. There is the Star Wars Megabundle, consisting of almost 200 individual issues. Issues are spread out through various series', so you will have a wide assortment to read.
The second bundle is Star Wars Omnibus Megabundle. Each Omnibus is a large collection of individual issues of various Star Wars comics based around a specific series. You have a total of 24 of these Omnibuses that total a whopping 8600 pages (the other single-issue bundle clocks in at about 4800 pages). Stories do not seem to overlap in either bundle, so you can choose from either of them depending on what specific stories you enjoy, or just buy both and have enough reading material to last you the year!
You can't go wrong with either bundle, but if you want more information or help on which one to choose, just ask away on the comments. Also, there's another shiny bundle I'd recommend, but not SW related. And if you know of any more Star Wars deals this weekend, comment it up!