Introduction
Ah jeez, it's the 24th already? I'm sorry to say that this is such a late report, but it's better now than never I suppose. This month has been hot in an activity sense as well as a temperature one. The clan Run-On is steadily gaining speed and we should be seeing the start of the clan's latest event today. Not only that, but the Brotherhood itself has been up to a lot of updates and changes as the hardworking DC and their staff continue with all the news posts (don't worry, they have to deal with the email barrages that we generate as a club). Anyway, there's a lot going on so read on for the stuff that you guys read these reports for.
News and Events
The third iteration of the Pro Bowl and it's preliminary round should be starting soonish and will be part of a three-clan event featuring Clan Taldryan and Clan Scholae Palatinae. Teams will be broken up and chosen by summit members from each clan and is going to be based on the opening round so give that the ol' college try and show the other clans that it's all about the drive to Adapt, Ascend, and Avail.
Additionally the Song of Discord has just recieved it's first plot update. Get yourself introduced into the storyline and start talking to your fellow members about some fiction collaborating in the storyline. It's much more fun to write with others. Remember, if you have any questions you can always ask myself or any member of the clan's esteemed summit and although that's part of this position, most of the club is willing to help out, answer questions, proof posts, or anything you may need really. Many of them may be interested in writing with you as well.
In other news:
Regular DC Reports
Miscellaneous
Quaestor's Words
The Pro Bowl is here and this year we've got a three-clan event going on. I think this increasing number of clans being involved is a good example of the constantly valued idea that although we may be separated into houses within our clan, we are part of the same unit. By extension the clans are part of the same Brotherhood. Although some members might not be your favorite people or some members might break the rules, we should all try to work together to keep this club alive and thriving. In essence teamwork makes the dream work and this whole team is the Dark Jedi Brotherhood. As we enter this competition with our brethren from these other clans, let us remember that banter is fun and all but don't go overboard.
Additionally, this is a three-clan event which is half the clan's in the Brotherhood. Maybe clan by clan, year by year, it'll become an annual club-wide event. So you know, give it your best shot and participate in all of the events. Even if you don't win, putting in the effort to complete a valid entry is enough to count for your next merit medal at least, and as large as this event is, that might just be at the end of these three weeks. I am quite stoked to see the turnout for this growing yearly event and am eager to work with members of CSP and Tally on whichever team picks me. Good luck all. And I'll be reminding you throughout the event to get your entries in because participation is going to be the important metric here. In football terms, they don't all have to be touchdowns so get all the field goals!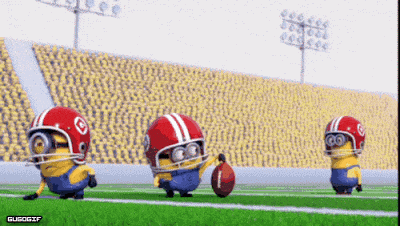 (Maybe not quite like that)
In Conclusion
It's been a good month for the clan and everyone in Telegram seems to be excited for the Pro Bowl. If you read these reports and aren't on there, please come join us. It's the best way to socialize in this club and I have a feeling that it'll be valuable with the three clan-sized teams we'll have in the running. As always, keep taking these events to practice your expressions of your enjoyment of Star Wars and what this club's created with it.
See you around the Monastery!
Furios Morega